0n October 3rd, the second conference of the The National Centre for Health System Reform was held in Tripoli, under the title of Health System Between Planning and Execution.
The conference was pleasured to host the president of the presidential council MrFaiz Al-Sarraj, the minister of health, minister of education and many others interested.
The Opening of the event was with verses of Quran, followed by the national anthem.
The starting word was by the presenter of the preparatory committee Mr Yusef Erhouma, followed by the word of the president of The National Accord government.Then the word of  Minister of health Mr Omar Bashir .
The director of the National Centre of Health System Reform Dr Samir Sager then gave his lecture about The Sensible Governance, which included: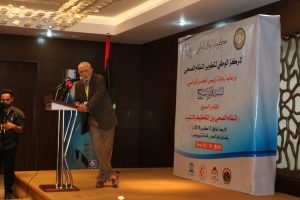 an introduction about the initiation of the center and its development
vision, plans and targets of the center to achieve a complete functioning health system
health system sections including governance , finance and service branching
A video promoting ESehaty service was also presented after Dr Samir's lecture wich introduced the idea of electronic health survises.
On behalf of the conference and Ending the first part of it, Dr Talal Ajaj  honored Mrfaiz Al-Sarraj , Dr Othman Abduljaliel minister of education , dr Samir Sager Director of the center , Dr Badradeen Abouhajar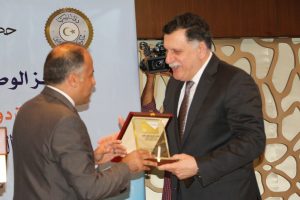 After a coffee break, the rest of the conference sections were continued with a talk dicussing Health Financing Fund by DrTala Ajaj.
Dr BadradeenAbouhajar then presented his view about the role of public and private sectors in health service .
Followed by Dr badradeen ,Dr Adel Al-Twejer  spoke about The Organization of Health institutions .
Then Dr Imhemmed Sassi took part in the conference with his lecture on organization of health occupations.
Ending the words of the participants, Dr Imhemmed Khsheaba talked about Organization of Drugs and health equipment.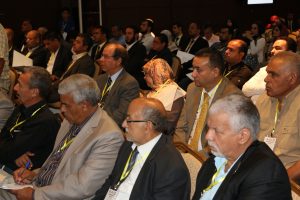 The event was ended with a discussion between the speakers and the attendance which included many questions and clarifications, which included :
The clarification of the role of governance and introducing health management to health service
Initiation of the health insurance system as an addition to the financial sources of the health sector , even though the center still needs the support of the health ministry to continue its purpose
The importance of cooperation between both public and private health institutions
The importance of supervision and inspection over the drug industry
The conference ended with a dinner feast in the Bab Albahr hotel where the host continued their discussions over the main points of the event